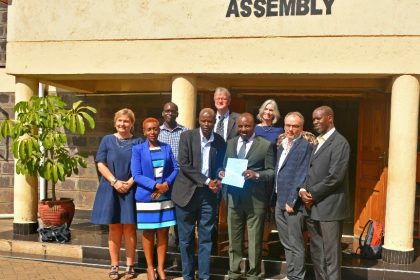 The Nakuru County Assembly will partner with two NGOs, Mid Rift Human Rights Network and the Dignity Danish institute in coming up with policy on urban crime prevention.
The formulation of policy aims at curbing the vice especially in Nakuru town west, Nakuru town east and Naivasha sub counties where the pilot project is set to start .
The director of Mid-Rift NGO Joseph Omondi who led the delegation in paying a courtesy call to Nakuru county assembly speaker Hon (QS) Joel Maina Kairu said that, the assembly will play a major role in coming up with the formation of the County Policing Authorities- CPA.
According to Omondi, the CPA will form the basis of crime prevention at ward level.
The Nakuru County Assembly Speaker Hon Kairu said the assembly will work closely with both institutions to ensure that the policy becomes implementable.
While recognizing the fact that Nakuru is fast growing, Hon Kairu reiterated the need to create an enabling environment for doing business. He said that such working condition can only be realized when security is guaranteed.
The County Assembly majority leader Hon Stanley Karanja and the chairman of the labour and social welfare committee in the assembly Hon Catherine Kamau said that the policy will greatly help in addressing emerging issues of rising domestic violence that of late has led to death in various parts of the country.