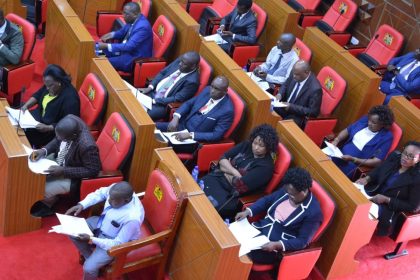 This afternoon, the Nakuru County Assembly approved the budget estimates for the financial year 2019/2020 amounting to Ksh 21,377,017,362.
Development expenditure was allocated 49.4% of the total budget which amounts to
ksh10, 579,015,633 while the recurrent expenditure is ksh10,798,001,729 representing 51% of the total budget.
Some of the key highlights of the budget include; the department of Health which took the lion share of the county budget at 31.1% followed by the department of lands, housing and physical planning at 13%. The department of infrastructure stands at 11.9% while environment, water and natural resources is at 8%.
The County also allocated Ksh 1,547,000,000 in favour of the ward resource envelope which translates to 47.4% of the 2019/2020 development expenditure. Other allocations contained in the budget include ksh 27.5 million for PWDs, Ksh 200 million for construction of outpatients complex in Nakuru west, ksh 128 million for construction, rehabilitation and renovation of Markets among others.
In the report tabled by the Budget and appropriation committee chair Hon Joel Karuri, the committee commended the County for improved local revenue collection but urged them to explore strategies that will increase collection in the 2019/2020 FY.
The Assembly also urged the County government to consider completing the existing pending projects as opposed to proposing new projects.