Clerk's Office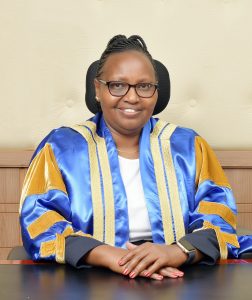 The Ag Clerk of the Assembly CPA Jane Waweru (Pictured Above).
Brief Bio;
The Clerk plays a vital role in managing and coordinating the administrative and procedural functions of the Nakuru County Assembly as she is principal administrative officer. CPA Jane Waweru currently holds the position of Nakuru County Assembly Ag Clerk and has a wealth of experience in the public sector.
Madam Waweru possesses a Bachelor of Commerce degree with a specialization in Finance. With her considerable expertise in the public sector, she has held several positions, including Director of Finance, Principal Finance Officer, Finance officer, Commercial Manager, Senior Accountant, and an accountant Officer. Her varied background has equipped her with a vast range of experiences in serving the public sector.
As the Clerk, she is responsible for ensuring that the Assembly's proceedings are conducted in an orderly and efficient manner, and provides procedural advice to the Speaker and Members of the Assembly on parliamentary procedure and practice.
As the Clerk, she oversees the Assembly's administrative functions, including human resource management, financial management, and procurement, ensuring that the Assembly operates within the law and develops policies and plans that align with the County Government's development agenda. She also provides support to the Assembly's committees and ensures that their reports are prepared and presented in a timely manner.
The Clerk's office is established under section 13(1) of the County Government Act 2012, and Madam Waweru was appointed as the Ag Clerk according to the Nakuru County Assembly Service Act 2016.
As the Secretary to the County Assembly Service Board, the Clerk has several responsibilities, including being the Chief Executive Officer and accounting officer of the Board, the administrative head of the County Assembly Service, and the custodian of the Board's records.
The Clerk also executes the Board's decisions, assigns duties, supervises staff, and ensures staff compliance with public service values, principles, and ethics. Additionally, the Clerk ensures the performance of any other duties assigned by the Board or any other written law.
Madam CPA Waweru is a dedicated and experienced public servant committed to promoting transparency, accountability, and good governance in Nakuru County. She works closely with the Speaker, Members of the Assembly, and other stakeholders to ensure that the Nakuru County Assembly operates effectively and efficiently.
• Email: clerk@assembly.nakuru.go.ke