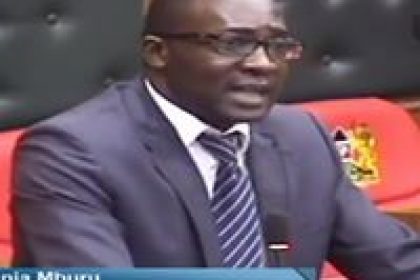 Rest In Peace Hon. Peter Karanja Mburu (Lakeview)
Sunrise 1987: Sunset 2020
As Hon. Peter Karanja Mburu was laid to rest at his Nyondia farm in Naivasha following a tragic road accident along Nakuru-Naivasha Highway on April 19, many eulogized him as a devoted and selfless leader who served his constituents without boundaries.
Representing Nakuru leaders, County Assembly of Nakuru Members, Management and Staff, Speaker Hon. Joel Maina Kairu during his speech said the late was a devoted and dedicated Member who demonstrated a deep understanding of parliamentary procedures.
Committees
Until his untimely death, Hon. Mburu was the Chairman of the Disaster Committee and the recently formed COVID-19 Ad-Hoc Committee spearheading the fight against the pandemic.
He was also a member of several committees including; Health, Land, Liason, Budget, and House Business.
Bill
Hon. Mburu also played a major role in the legislative work by tabling a bill and sponsoring several motions with the aim of improving the livelihoods of the Nakuru people.
He tabled the Nakuru County Disaster and Emergency Management Bill which is now at the Second Reading Stage.
The bill seeks to compel the Nakuru County government to set up a structured disaster response unit and establish a County Disaster Council (CDC).
Motions
He sponsored a motion urging the county government to provide free NHIF medical cover to the vulnerable people in the society.
He also sponsored a motion compelling the County Government to construct specific classrooms for children with special needs to accommodate autistic learners.
He noted that many children with various disabilities were dropping out of school due to unconducive learning environment.
Hon Mburu also sponsored a motion urging the County's Lands, Housing and Physical Planning Department to consider developing a digital platform to support online approval of building plans.
The move was to ease the process of approving building plans which is usually tedious and time-consuming.
"Words cannot convey the magnitude of blow the Assembly has to deal with. He played a major role in shaping the interests of the Lakeview residents. He and his service to Nakuru people," the Speaker eulogized.
Hon. Erick Gichuki (Viwandani) and Hon. Eddy Kiragu (Flamingo) who spoke representing other Honourable Members who were not able to pay their last respect due to the COVID – 19 prevailing measures eulogized the late Hon. Mburu a focused, open-minded, and a good orator who was always ready to serve mwananchi.
The Speaker with Honourable Members vowed to ensure that his dreams have been achieved.
His commitment to serving Mwananchi will be greatly missed.
FARE THEE WELL HON. PETER KARANJA MBURU