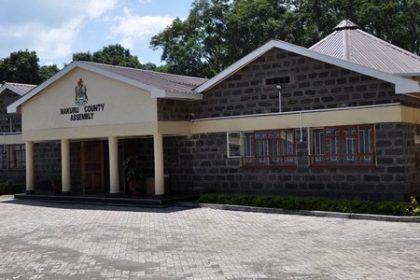 The County Assembly of Nakuru this afternoon voted to approve a report of the Budget and Appropriations committee on the Shs 15 billion county budget estimates for the 2018/19 financial year.
The house approved the report tabled by Chairman
Moses Ndungu. Key highlights of the budget include a lion's share allocation of 36.6% of the total county budget to the health services docket.
The chairman further noted that the county would also be getting its Sh.3.8billion previous allocation balance from the exchequer which would also be allocated this financial year.
Youth polytechnics in the county will soon get a revamp after an allocation of Sh 47.8 million for rehabilitation works. Other conditional allocations contained in the budget include Sh 373.8 million for Nakuru Level 5 hospital (PGH), Sh 200 million for leasing of medical equipment, Sh 248.8 million for road maintenance and Sh 125 million for bursaries.
County ward resources (development) was allocated Sh 1.1 billion to be shared equally amongst the 55 wards (Sh 20 million per ward).
The county has set a local revenue target of Sh2 billion for the financial year. The assembly however urged for better revenue collection strategies noting that the county missed its last financial year's target of Sh 2.5 billion. Hon. Ndung'u noted that Sh 1.6 billion was collected (67.3%) leaving a deficit of Sh 817 million this necessitating the committee to starve off various expenditure streams.