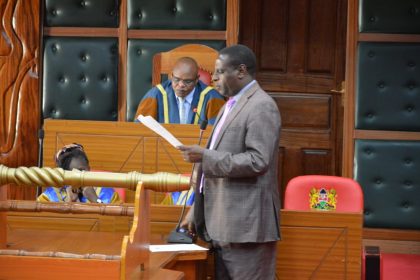 The assembly has put the county executive to task over the steps it's taking to ensure all conditions for attaining city status have been met.
On Tuesday, the Assembly adopted a report of the Committee on Environment, Water, Natural Resources and Energy tabled by Chairman Joseph Kamanu of Maiella ward.
The report seeks to ensure that the elevation of Nakuru Municipality to city status is beneficial to its residents.
The report indicated that Governor Lee Kinyanjui should devise an appropriate structure in execution of city functions to minimize duplication of roles between the county executive and city Board.
The committee members also recommended that the Department of environment should come up with a clear road map on waste management at Gioto dumpsite,
Other key recommendation report included; ensuring project identification and implementation within Nakuru Municipality is done with transparency, accountability and public awareness to promote community ownership.
'The rationale for confirming the Municipality to city status should be beneficial to its residents to ensure economic and social well being is taken care of. Also zoning and development of the municipality should be strategic and procedural' stated part of report.
With the implementation of the report, Nakuru will be a force to reckon with as the fruits of devolution start gaining prominence in counties across the nation.
However, MCA's raised concern over delayed implementation of various reports emanating from the Assembly by the County government.
'We are concerned by the delay of implementation of reports by the executive, whereas members we have done our work to compile the same reports,' wondered Douglas Ayabei (Mariashoni).
The report will be forwarded to the executive for implementation.