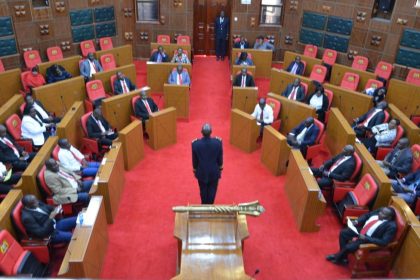 The Assembly resumed its sittings today for the Fourth Session with Speaker Hon. Joel Maina Kairu urging members to consistently endeavor to discharge their full mandate and improve the livelihoods of the electorates.
"As we usher in a new session, we should take cognizance of the responsibilities bestowed upon us to serve the public. This can only be achieved if we devote our time to engage in the legislative business of the house," he said.
The Speaker noted key milestones in the legislative realm as the Assembly passed several bills including: The Nakuru County Tourism Bill, 2019, Enterprise Bill Fund, Revolving Development Fund Bill and, The Nakuru County Trade Bill, 2019.
However, the Speaker said the four bills will be recommitted to the Whole House for further deliberation and determination after his office received a memorandum from Governor Lee Kinyanjui on the bills.
The Speaker also noted that the House adopted the report of the Adhoc committee recommending the elevation of Nakuru Municipality to city status.
Hon. Kairu said the House will look into pending bills which include; The Nakuru Honors and Awards bill, Public Management Bill, County Estates and Tenancy Bill, Valuation and Rating Bill, Disaster and Management Bill and Gender Bill.
Others are: The Nakuru County Youth Board, Livestock Sales Yard Bill and The Nakuru County Agriculture Training and mechanization service Bill.
The Hon. Speaker reminded Members to legislate follow up on the implementation of resolutions made in the House and ensure the executive arm of government perform their constitutional mandate
The Speaker noted the house was scheduled to resume last week but due to the demise of the second president of the Republic of Kenya, it was rescheduled to today.
"Due to the unfortunate demise of the second president of the Republic of Kenya and the subsequent declaration of public holiday on 11th and 12th by the National and County Governments respectively, my office in consultation with the leadership of the Assembly rescheduled the Fourth Session of the Second Assembly to today," the Speaker noted.