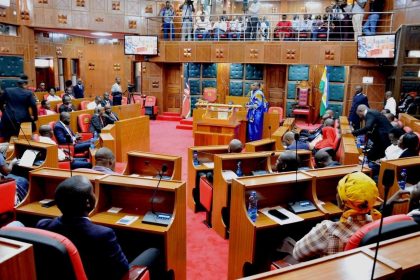 THE Assembly has adopted a Committee on Health Services report to boost service delivery in the sector.
The committee's objective on benchmarking to Makueni last month was to identify policies and legislations geared towards the enhancement of health delivery systems, accessibility to Universal health and analyse the budgetary allocations for physical infrastructure in the Referral and Mother and Child facilities.
The committee chaired by Hon. Njuguna Mwaura was determined to find out its role in promotion of a robust health delivery system.
The committee recommended two trauma centres, one along Nakuru-Nairobi Highway and another along Nakuru-Eldoret Highway.
The committee recommended that the Directorate of ICT to ensure that all health facilities are connected with internet to send patients' data within departments and also from one health facility to another.
The county government was also urged to conduct a registration of its residents through biometric process.
"The Department of Health services should establish forensic morgues to cater for accident cases with cold rooms for preservation of bodies," read part of the report tabled on Wednesday morning.
The team also recommended the county government to move towards realizing the Universal Health Care coverage for its residents.
"The Nakuru Universal Health Care Program should cover curative and rehabilitative health care," stated the report.