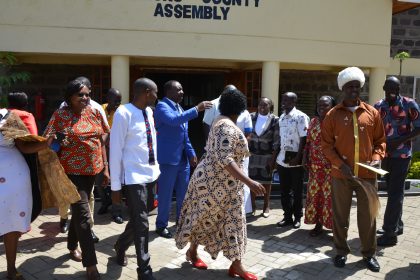 Nakuru has become the first Assembly to implement a government circular issued last month requiring the public service to dress in Made in Kenya attire once a week.
Today, MCAs wore various made in Kenya outfits in a move to support the Big Four Agenda manufacturing pillar and create employment as advocated by the President.
Last week, Speaker Hon. Joel Maina Kairu made the directive requiring MCAs to wear the Kenyan made outfits every Wednesday in order to support the textile industry. He however clarified that the Speaker and members of the Speaker's panel will be expected to wear their normal assembly attire during the sessions.
"Wednesday is for wearing 'Made in Kenya' attire. We want to promote the textile industry in line with the Big Four agenda and create employment as advocated by President Uhuru Kenyatta," said the Speaker.
Mid this year during re-opening of Rivatex factory in Eldoret, Uasin Gishu County, President Kenyatta urged all public servants to wear Kenyan made garments to boost the local textile industry.
The order was issued in a circular from the Office of the Attorney General dated October 17, 2019, by the Solicitor General, as part of a scheme to achieve President Uhuru Kenyatta's Big 4 Agenda.
"Pursuant to the achievement of the Big 4 Agenda and specifically the expansion of Manufacturing Pillar by producing better goods and creating local employment, I direct that all members of staff shall on all Fridays be dressed in decent, smart casual Kenyan produced and tailored attire," read part of the circular.
The directive took effect on October 18 and is expected to be part of the official dress code for government staff.