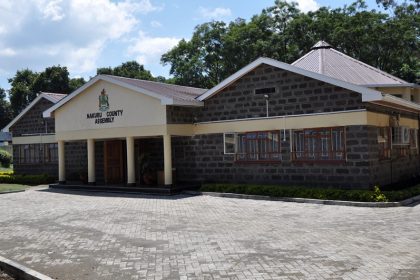 The Assembly has passed a Sh 478 Million Second Supplementary Appropriation Bill for the financial year 2019/2020 aimed at mitigating the outbreak of Corona Virus (COVID-19) in the County.
The Supplementary Budget is also aimed at installing of high mast streetlights across the County to address the instances of insecurity arising from deterioration of livelihood as a result of COVID-19 curfew.
It will also facilitate in mitigating against infestation of desert locusts in the County.
The funds were re-allocated from non-essential expenditure and freezing several capital projects that have not yet been initiated.
ASSEMBLY RE-ALLOCATES SH.30 MILLION
In the Budget, the Assembly re-allocated Sh. 30 Million towards the purchase of ventilators and beds for the Nakuru Level Five Hospital.
The amount was re-allocated from Salaries and Expenses account and Capital Expenditure attached from the Speaker's Office, Finance and Budgeting and from the County Assembly Service Board.
The other funds were also re-allocated from various departments in the Executive aimed at purchasing of non-pharmacetical items, medical drugs, facilitation of health and community workers, recruitment additional health workers as per the directive of the National Government.
Nakuru Level Five Outpatient Complex has been catered for to hasten the implementation of the project hence reduce the completion period.
PROTECTION of TRADERS
The House also recommended to the County Government to extend the period of payment fees, charges and levies which were due by March 31st, 2020 to June 2020 without any penalties and interests.
The measures are aimed at protecting traders in the wake of COVID-19 outbreak in the country.
COMBAT COVID-19
In Nakuru County, two people have so far tested positive for COVID-19 while 28 cases are under investigation.
The County has quarantined more than 125 people with 33 cases still on quarantine and being monitored on a daily basis.
This week, President Uhuru Kenyatta directed the Treasury to transfer all domestic and foreign travel budgets in county and national governments to combating Covid-19.
Stay Safe, Save Lives