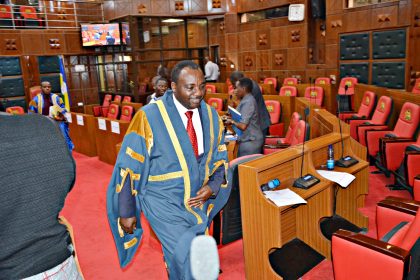 THE Assembly has approved Sh. 373 million to fund county activities and projects in new estimates captured in the County supplementary Budget 2019/20.
Tabled by the Budget and Appropriation Committee Chairman Hon. Joel Karuri Maina, the report indicated that the recurrent expenditure has been reduced by a net of Sh 2.46 million while development expenditure has been enhanced by a net of Sh 375.6 million.
The County revenue sources have been enhanced. The Additional funding was realised from donor grants from World Bank National Agricultural and Rural and Rural Inclusive Growth Projects (NARIGP) Sh. 210 million, Danish Development Agency Sh 10 million and a conditional fund from Kenya Urban Support Project (KUSP) of Sh. 8.9 million.
The Budgetary allocation to compensation for employees has been reduced by Sh 194.46 million, an amount that has been transferred to use of goods and services.
In the Health Department, budget captured a reduction allocation of contractual employees by Sh 50 million which has been transferred to purchase of drugs.
In Education Vocational Training, ICT and E-government Department, there is an increase of Sh. 38 million for recruitment of 304 pre-primary teachers and 55 youth instructors.
In the Trade, Industry, Marketing and Tourism Department, compensation of employees has been reduced by Sh.18 million while the Treasury Department, compensation has been reduced to Sh. 8.6 million expected savings from retirements.
"In the allocation to Municipalities, Nakuru has benefited from an Urban Development Grant amounting to Sh. 1.085 billion from 2018/9 which has now accumulated to Sh. 2.17 billion and transferred to Nakuru and Naivasha Municipalities," read part of the report.
The committee however directed the County government to initiate the Boresha barabara program without delay to ensure that it is completed before the commencement of long rains.
"The ward projects must be prioritized and fast tracked to ensure their timely completion. The county should undertake an economic analysis of the need, sustainability of these projects to ensure that only optimal projects are undertaken,' read part of the report.
The committee asked the county government to operationalize and equip already completed projects.