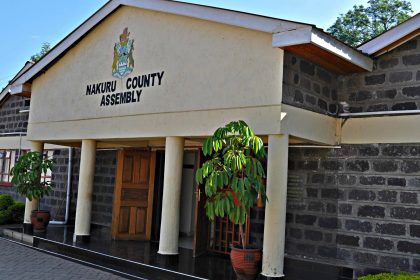 The Assembly has approved the formation of a 15-member Ad-hoc Committee to explore ways of helping in the fight against novel coronavirus in the County.
The Committee will coordinate and serve as a linkage between the Assembly and the Nakuru County COVID-19 Emergency Response Committees.
The team to be in collaboration with the other County Emergency Committees will also explore how to cushion Nakuru residents from the effects of the pandemic.
It will also perform an oversight role for the money allocated towards the pandemic.
Other mandates are: activate early warning systems on the pandemic and other preventive measures, identify vulnerable cases top benefit from any social welfare, assistance from the county government and carry out all information and education initiatives to the public on the Pandemic.
Last week, the House approved the 2nd Supplementary Budget to combat the pandemic.
From the initial amount which Governor Lee Kinyanjui had proposed of Sh. 250 Million to help the most vulnerable residents, the House enhanced it last week to Sh311 Million with Sh.3.7 Million allocated to each of the 55 wards, Sh 1.5 Million additional to be used by 30 wards who have most vulnerable people.
During the approval, the Assembly reallocated its Sh. 30million towards the purchase of ventilators towards Nakuru Level Five hospital, the biggest Referral Health Facility in the region which serves more than seven neighbouring counties.
The committee alongside others in the County will determine the specific needs of the vulnerable persons in the area and take lead in COVID-19 response.
The House recommended all ward committees to come up with modalities to identify beneficiaries by April 20 and have the list of beneficiaries ready by April 24, 2020
The House also recommended all purchases and supplies be done at the ward level and in cases where such supplies are not available, the same shall be noted in full committee meeting with requisite quorum before supplies are outsourced elsewhere.
The Government has always stated the war against COVID-19 can only be won if Kenyans abide by the measures we have put in place.
The House urged residents not to relent in the fight against the virus by observing the preventive measures.
Stay Safe, Save Lives