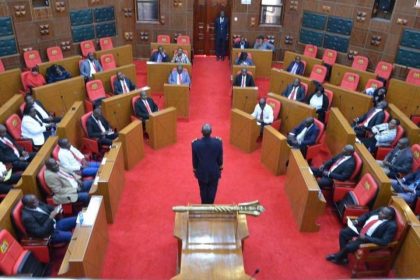 The Nakuru County Maternal, Newborn and Child Health Bill 2019 has been withdrawn to give room for further deliberations.
The Chairman of the Health committee Njuguna Mwaura withdrew the bill under Standing Order 135 which states '….the Member in Charge of a Bill may, without notice, claim to withdraw a bill;
'If the Speaker is of the opinion that the claim is not an abuse of the proceedings of the assembly, the Speaker shall direct that the bill shall be withdrawn..".
While withdrawing the bill, Hon. Mwaura said the committee will re-look on the grey areas which Members had raised before bringing it back to the floor of the house.
Some of the contentious issues the members wanted removed from the bill include; issues surrounding termination of pregnancy, access to contraceptives for a child among others.
The members said the bill had other positive sections such as maternal care where '…every woman has the right to affordable, accessible quality maternal health services in a dignified and respectful manner.
'…Medical training for midwives where the county executive member responsible with health shall facilitate training to midwives and healthcare to improve antenatal and postnatal care for women and children…"
On the sideline, the Speaker Hon. Joel Kairu Maina said the bill was headed to an imminent defeat since members were not happy with some clauses hence ruled the bill be reverted back to the committee of Health for further amendments.
"The bill has not been 'killed', it has only been withdrawn from the floor of the house under section 135 of the Standing orders and when it shall be amended, the Chair of the committee is free to bring it back to the floor of the house," he said.